Custom Peptide Synthesis

Peptide synthesis expertise
SB-PEPTIDE has invested and gained a lot of experience during many years in custom peptide synthesis and engineering (highly hydrophobic sequences, highly hydrophilic, long sequences, cyclized peptides, conjugations or modifications). The company offers simple to complex peptide production services adapted to any needs, for occasional or recurrent projects. SB-PEPTIDE can synthesize individual peptides (purified or not), proteins and peptide libraries (96 wells plate).
Custom synthesis of individual peptides
SB-PEPTIDE offers several standard synthesis scales (from mg to multi-grams) and purity rates for custom peptide synthesis.

Standard synthesis scales and purity rates
Any other scales (intermediates or multi-grams) are of course possible, as well as specific purity rates. Feel free to ask the best format for you when submitting your quote request.
Thanks to the use of chemical routes for peptide synthesis, unlimited modifications are possible on individual peptides, including on small proteins. Discover some of the available peptide modifications here.
To define which peptide purity you need, please visit the section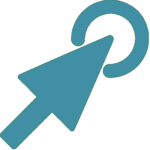 how to choose the peptide purity grade.
Custom peptide synthesis in 10 days
Custom peptide synthesis is a multi-step prossess, starting from the chemical synthesis of a crude peptide, its purification, eventual modifications, preparation for delivery with quality controls all along the process. SB-PEPTIDE usually delivers standard peptides in 4 weeks. For instance, SB-PEPTIDE routinely delivers custom peptides with up to 40 AA, >95% purity rate, 10 mg in 4 weeks or 20 AA in +100mg in 4 weeks. When requesting a quote, the level of difficulty of every peptides is studied thanks to a proprietary predictive tool and expertise. Given lead times are taking into account possible difficulties to provide a realistic lead time. As peptides are made in France, once ready they are delivered the day after in Europe and within 48-72h in USA.
In case of urgent needs, SB-PEPTIDE has been the first peptide company (to its knowledge!) to offer a 10 days express production service. The peptide express service is also available for modified and purified peptides. Visit peptide synthesis express service here.
Custom Peptide Synthesis prices
SB-PEPTIDE offers premium custom peptide synthesis services at competitive prices. We invite clients to submit a quote request for every project. The feasibility of each peptide will be analyzed and an adapted quote will be sent, usually in less than 4 hours.
Quote request
Enjoy exclusive benefits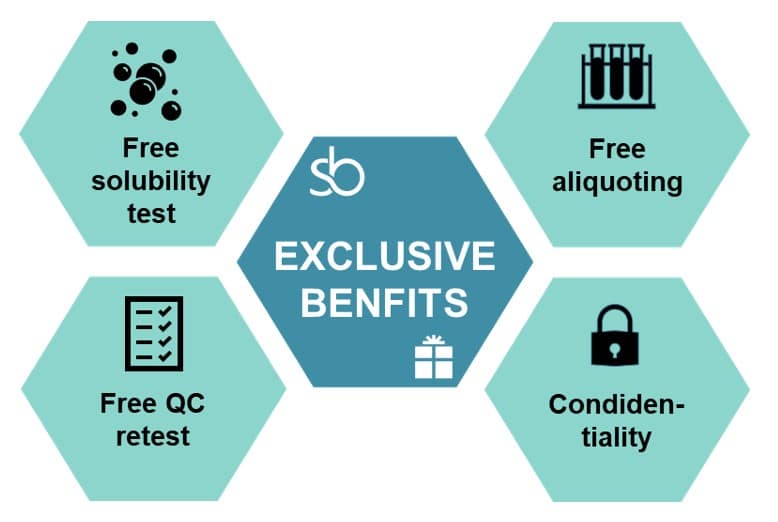 More information about SB-PEPTIDE exclusive benefits here.

A wide range of options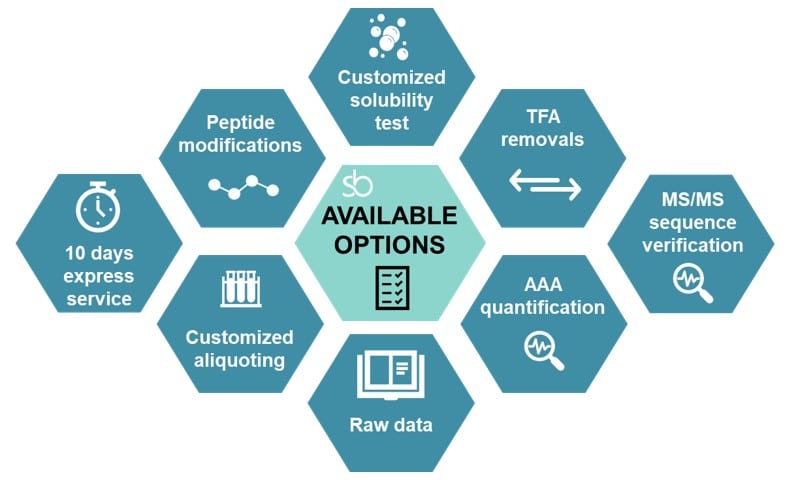 Discover all available options here